My Story in the NEC Staff Newsletter
Below is an article I wrote for the January issue of the staff newsletter at New England Conservatory. Rachel (director of my department) asked me to write about my recent tour with the Baltic Youth Philharmonic. I tried to use the opportunity to not only share my story, but also show my appreciation for my current position and colleagues!
* * * * * * * * *
Making the decision move to back to the USA from overseas was a tough one. I knew that I craved stability and yearned to be around family and old friends, but I had spent 3 years in Sweden, building a network and a new musical family. Nevertheless, I had to cut the cord. When the position in the EM department was posted, I knew it was the job I wanted and I couldn't be happier with the way things have turned out!
The EM department is a perfect fit for me; it exemplifies everything I believe in as a musician with a "DIY" attitude. I try to live and breathe the guidance that we provide for the NEC student body by getting my feet wet in the Boston music scene, and doing my best to create a presence for myself. With every musical endeavor and sleepless night dwelling on ideas, I feel that much more equipped to sit on my yoga ball every day and work at NEC.
In October, I received an email that was encouraging and exciting; it was from the orchestra I toured with while in Sweden, called the Baltic Youth Philharmonic (BYP - for students and young professionals under 30). I had to withdraw from the group to move "home", which was extremely difficult! However, my fears of being forgotten were put to rest, as they invited me to join the group for a winter tour to Milan, Italy and Kassel, Germany. I was shocked, due to the fact that all of the musicians in the group live in the countries that surround the Baltic Sea, and the USA sure isn't one of them!
The tour was slated for the week after Thanksgiving. It was a bit hard to mentally prepare for, and physically - I needed to practice! I don't have easy access to timpani nowadays, and was forced to enlist the help of a few local colleagues for some late night practice sessions to get back in shape. I quickly realized that my 6 years of study, plus a few years in the field, have taught me a lot. The ability to prep with little to no time is a necessity!
Once in Milan, it was like I had never left Europe. I was soon accustomed to Russian/Lithuanian/Latvian/Swedish/Finnish/Polish/Danish/Norwegian/Estonian/German-style English once again. It will never cease to amaze me that 80+ young people come together and communicate in their second, and sometimes third, language. (As a side note, I evidently sound more "American" to them than ever before. I guess my accent has been strengthened from a few months on the East Coast!)
As many of you know, a touring schedule is a hectic one. I hadn't performed with a large ensemble since May (my last tour with this group), so I felt extra pressure to perform with perfection (self-inflicted, of course, no one else knew!) Perfection. What a strange word to use in a musical context...a discussion that lends itself to an entirely new essay!
We were bused to and from the Teatro degli Arcimboldi for rehearsals which lasted from 6 - 9 hours a day. Luckily, we were able to enjoy some wine, pizza, and sightseeing in the evenings. An envious eye was upon me, as I was even able to do a little shopping - a perk from having a fulltime job! Our first concert was in Milan at the Teatro dal Verme and I was itching to perform! The highlight of the program for me was Hindemith's Symphonic Metamorphosis. It's a timpani repertoire staple and I was thankful for the opportunity to perform it, especially with such a phenomenal group. Not to mention, it's a REALLY fun part!
The concert was exhilarating. Kristjan Jarvi is an incredibly energetic conductor. I cannot adequately describe the amount of enthusiasm and emotion Kristjan always gives to his players, and in turn the level of spark that the musicians give back. Five encores later, the audience was still on their feet, a phenomenon I've only seen when performing in Europe. After the concert, there was a good amount of celebration, as there is with any ensemble that's on the road. The following day was a travel day - up at 5am, bus to airport, flight to Berlin, and 5.5 hour bus ride to Kassel, Germany. It sounded horrendous to me at the time (maybe it's my old age!), but in the end, I survived just like the 21 year olds.
Upon arriving in Kassel, we were directed to the middle of the small town to a beautiful Christmas market. Nothing will put you in the holiday spirit like an authentic German market, untouched by tourist, and overflowing with mulled wine, lights, holiday trinkets, beer, and wurst. It was the first time I felt like the holidays were upon us, and I was happy to share a cup of mulled wine (or two) with some Russian friends.
The final tour day was packed with two back to back concerts at Martinskirche in Kassel. It's important to note that BYP is sponsored by a few major gas and energy companies in Europe and these small tours are dedicated to making those sponsors happy. This also means that there is no government funding at all. Isn't that unbelievable? In its fifth season, the orchestra is going strong and it's due to the hard work of Thomas Hummel and the entire management team.
The first concert was closed to "sponsor-only" patrons. I envisioned a crowd of 100 or so, but what we got was a packed church of about 700! Of course, they loved the 2.5 hour concert. They couldn't get enough of Kristjan and the "Beautiful-Young-People," (a humorous way to explain the BYP acronym, dubbed by our orchestra manager a few years ago.) The turnaround before the 7pm concert was tight, but they fed us well and everyone was in good spirits. The entire second concert felt a bit surreal - or at least like déjà vu! During the final movement of the Hindemith, I took a moment to indulge in my surroundings. The passion emerging from Kristjan's face, the close friends that I had shared so much with sprinkled throughout the ensemble, the engaged faces of the audience members, the powerful sound that consumed the room and my entire being. It was probably the last time I'd perform with this group and I wanted to remember every detail. It was emotional, I can't deny it.
The emotion I felt at that moment will only propel me to keep doing what I'm doing, within NEC and outside these walls. I want every student that comes through this office to have as many of these powerful moments in their lives as possible. Whether it's sitting in an orchestra section, creating a unique ensemble project, teaching at an elementary school, organizing a festival, or following dreams that I can't predict, I am happy that I was reminded of the impact living your passion can have on one's self-worth. I'm will always be thankful to the NEC and BYP communities for having me, and look forward to the collaborations to come.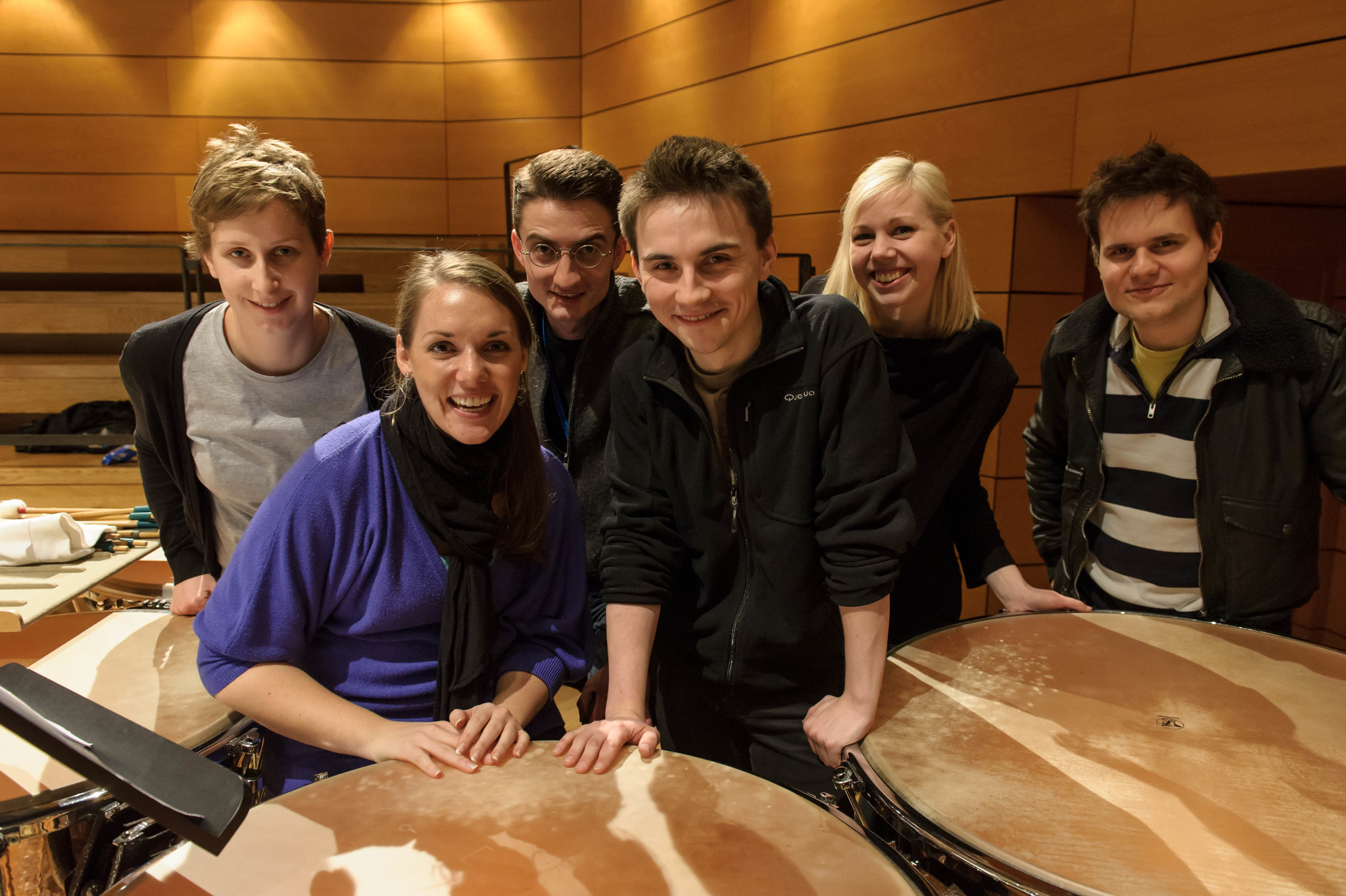 Photo credit: Peter Adamik